Box PC – compact and powerfull for the industry
The Box PCs from Alptech are specially designed for industrial requirements. The Industrie Box PC are compact and powerful. Box PCs work efficiently, reliably and require little maintenance. The housing and the entire hardware of the Industrial Box PC are insensitive to external influences such as Shocks, shocks or adverse temperature conditions. We rely on high-quality components from well-known manufacturers, such as MSI IPC and Intel.
There are application scenarios in which processes are controlled, monitored and controlled by Box PC in the smallest space. For this purpose, embedded box PCs were developed that function via sensors or authors. Thanks to specialized operating systems and software, these work autonomously and are only read out when required.
For High-End applications: our HiCore devices
Economic and reliable – All in control: with our EmCore devices
Also for difficult environment: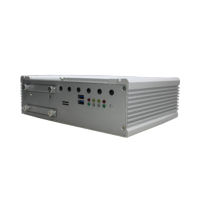 You couldn't find a suitable system yet? No problem: we find the ideal system.
For your project: Let us configure your ideal computer
Benefit from our partnership with MSI IPC as official channel partner! We can configure complete systems for your project with our Design Manufacture Service, also known as Build To Order (BTO).
Your advantages:
3 year warranty

long term delivery 5-7 years

attractive pricing through quantity discounts

No engieering costs / NRE for projects and series
Why chose Alptech?
longterm solutions
competence through own production
projects without NRE, no engineering costs
final assambling in Germany and multi-day quality inspection of each device before delivery
additional services such as initial installation, provision of test equipment, customizing, warranty extension
Box PCs are designed for reliable continuous operation
Box PC are used in production processes, manufacturing and many other application scenarios. There are often difficult conditions in industry such as vbrations of machines and systems to which the Box PC are exposed. The housing as well as all components are therefore robust and insensitive to external influences.
In contrast to conventional office computers, the systems in industry are usually not shut down. In shift systems or systems, the Box PC must be suitable for 24-hour continuous operation and function permanently. The industrial box PCs from Alptech were developed precisely for such applications and meet these requirements.
Industrial Box PCs are compatible with many systems and interfaces
The hardware of the Industrie Box PC is powerful and can be equipped with the latest processors. So there is enough computing power for the most demanding tasks. Compatibility with existing systems is also an essential requirement for Industrie Box PC. Alptech products are therefore equipped with a wide variety of interfaces. Older generations can also be easily supplemented with new hardware.
There is Embedded Box PC for the integration of computers in the smallest space. These are able to monitor and control specialized applications via sensors and connected authors. Embedded Box PCs can work completely independently. If necessary, e.g. Monitors can be connected temporarily.
Contact to us and your new Box PC
Our customers have very different requirements. We have forged our Box PC and individual services accordingly. In our product range we also have the right solution for you to make your everyday work easier. We would be happy to advise you personally. Contact us now.