Embedded PC for self-sufficient use in industry
Embedded PCs are primarily used to control and monitor machines and production systems. A special feature of embedded systems is the autonomous use without additional peripherals. An embedded industrial PC is controlled via a process routine using software developed for this purpose. You would like to benefit from the computing power and other advantages of an industrial PCs that But keep entry costs as manageable as possible? The device should be installed in a confined space, work fanless despite continuous operation and still provide you with powerful processors and memory of at least two GB? All of these requirements are met by an Alptech embedded PC, which you will find in our range in many variations.
Proven and inexpensive – Everything under control: with our EmCore devices
For High-End applications: our HiCore devices
Also in harsh environments: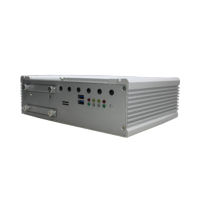 You couldn't find a suitable system yet? No problem: we find the ideal system.
For your project: Let us configure your ideal computer
Benefit from our partnership with MSI IPC as official channel partner! We can configure complete systems for your project with our Design Manufacture Service, also known as Build To Order (BTO).
Your advantages:
3 year warranty

long term delivery 5-7 years

attractive pricing through quantity discounts

No engieering costs / NRE for projects and series
Why chose Alptech?
longterm solutions
competence through own production
projects without NRE, no engineering costs
final assambling in Germany and multi-day quality inspection of each device before delivery
additional services such as initial installation, provision of test equipment, customizing, warranty extension
Embedded PCs offer the bare essentials – at a high level and for continuous operation
With an embedded PC, only those components are inserted and used in the system that are required for an often very specialized application. This means, for example, that an embedded PC can also be operated "headless", ie without an external display such as a display or monitor and without operating devices such as a mouse or keyboard. If such a concept can be implemented, the corresponding interfaces can also be omitted. Such a PC can even do without a hard disk, which is then replaced by a CF card, for example, and the basic version of an embedded PC usually consists of the following components:
Basic CPU module with power supply
System interfaces such as RS-232/422/485, USB, DVI or Ethernet
Fieldbus interfaces such as Profibus or Industrial Ethernet
Bus Terminal
as well as a special operating system.
Special or integrated standard-operating-systems for embedded computer
Specialized operating systems such as VxWorks, Nucleus, OSEK, OS-9 or NetBSD are sometimes used in an embedded computer. However, so-called embedded versions of standard operating systems such as Linux (Embedded Linux) or Windows (CE, XP Embedded, 7 Embbeded, 10 IoT, Automotive or Embedded for PoS) are also used for projects and series. As a simpler solution, we also offer the standard operating systems, including pre-installation. One of the greatest advantages of such a standard PC architecture is that developers will find the familiar hardware and software environment when it comes to the functional adaptation or expansion of an existing embedded PC system.
Humans can access an embedded PC via the network or a temporarily connected display. During operation, an embedded industrial PC does not need a monitor and works without human intervention. Depending on the application, Alptech develops high-performance embedded PCs for a wide variety of requirements.
Control even more complex processes with the Embedded PC
In the Alptech range you will find a large selection of Embedded PCs that can be used in the automotive industry, traffic engineering, production and manufacturing technology and telecommunications, for example. Since the integrated processors are becoming more and more powerful, they can also be used to control complex machines and systems or in building automation. Just talk to us about it – we will be happy to advise you on the various possible uses.
Contact us for Embedded PC according to your requirements
A computer must meet the needs of the user. With Embedded PC this principle is made even more essential by the extensive possibilities and special functions. We will therefore advise you personally which customized solution is suitable for your application. Contact our experts now and get advice without obligation.
Alptech – Reliance in computing